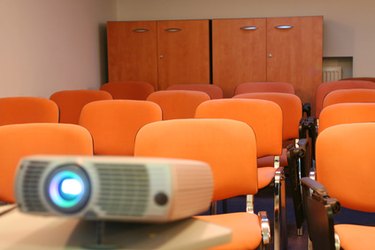 A multimedia projector is a compact, high resolution, full-color projector capable of projecting text, images, video and audio content. Typically the projector will feature inputs for a computer, DVD player, VCR, CD player and storage device.
Use
Multimedia projectors are used frequently in classrooms, offices and gatherings at which multimedia presentations are made. In a film class, for example, the teacher can integrate select video sequences into a slide show of note pages. In a marketing meeting, a presenter could alternate seamlessly between spreadsheets, animated ad content and live feeds from social media sites.
Synonyms
Multimedia projectors are also referred to as data projectors, digital projectors and data/video projectors. These names can apply to both portable and ceiling-mounted units provided that they can project computer output.
Examples
The Epson S5 2000 Lumen 3LCD Multimedia Projector is a portable LCD unit weighing just under 6 lbs. As of 2010, the unit can be purchased new for as little as $589. The Optoma DS317 2600 Lumen SVGA DLP Multimedia Projector is another portable design, with a weight of 9 lbs. and a list price of $449.99, as of 2010.