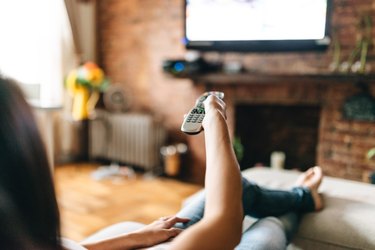 If you're having a problem with your DirectTV setup, you can likely fix it easily with a few simple troubleshooting procedures. Whether your receiver has no connection, you can't get a signal, or your receiver seems frozen, DirectTV has some steps to get you back to enjoying TV quickly. Before you shell out the money to call a technician, take a moment to check your connections, verify your dish and alignment, compare error codes to those in the DirectTV troubleshooting database and, if necessary, reset your receiver.
Checking Satellite and Power Connections
Before moving on to more advanced troubleshooting, check that your DirecTV receiver is properly connected. Verify that all of the cables between the dish and receiver are firmly connected. The cable coming from the dish should be connected to either the SATELLITE-IN or SAT-IN port on your receiver. Also check that the receiver's power cable is inserted into a functioning wall outlet or power bar. If a power bar is used, make sure it's turned on.
Understanding Channel Limitations
Not all channels are available to all DirecTV users. If you're attempting to access a channel but can't, make sure you are subscribed to that channel. If you think you should be able to access the channel but can't, contact DirecTV to inquire about your subscriptions.
Checking Dish Obstructions and Alignment
Your satellite dish needs a clear line of sight to the sky. Check for obstructions including buildings, bushes and trees and, if possible, remove them or pare them back. Bad weather can also lead to signal problems. If you're currently experiencing a storm, wait for it to pass before attempting more complicated solutions to an obstructed dish. If the dish has a clear line of sight, there's a chance it was not properly aligned when first installed. Contact your DirecTV dealer to have them send a technician out to check the alignment of the dish.
Using DirectTV Troubleshooting Error Codes
If your TV shows a DirectTV troubleshoot error code when you attempt to perform certain tasks on your receiver, take advantage of DirecTV's error code database to perform additional troubleshooting (link in Resources). To troubleshoot issues related to your DirecTV remote, press the remote's "Menu" button and then select "Settings & Help | Settings | Remote Control | Program Remote." Follow the prompts to reprogram the remote.
Resetting Your SWiM Inserter and Receiver
If the cable from the dish into your home runs through a SWiM Power Inserter, reset the Inserter by unplugging it from the outlet. Wait 15 seconds and then plug it back in. If your problem is still not fixed, reset your DirecTV receiver. If you have a small access-card door on the front of your receiver, flip it open. Press and release the red button and wait for your receiver to reset. If you don't have an access card door, unplug the receiver's power cable, wait roughly 15 seconds and then plug it in again. Turn on the receiver and wait for it to reset itself.