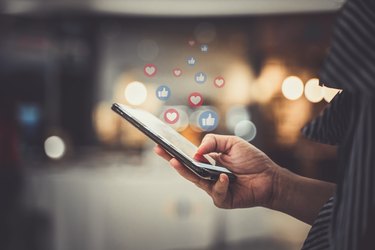 If I unfriend someone on Facebook, what happens to messages? This is a common question about Facebook, and specifically about the messenger app, because the two are linked but also act as independent apps. It's a perplexing and confusing situation that effects multiple parties. You may want a record of your messages, or may prefer that they're completely deleted to sever ties with the connection.
Conversation Cautions
As a general rule, you should always use caution when using Facebook Messenger or any other chat outlet. Even text messaging and email conversations should be used with caution as anything written has the potential to enter a permanent record. The other user may screenshot the messages to save them permanently. Deleting messages from a digital record with complete permanency is extremely difficult as well. While you can delete them from view, the messages can still sit on a server where they have the potential to surface in the future. Using caution in the way you message is a good practice that can save you trouble down the line.
Deleting Contacts
If you unfriend someone on Facebook, are you still connected on messenger? This is an important question that directly affects your messaging record. When you unfriend a Facebook contact, it requires only that you view that person's profile and remove the connection. The entire process takes seconds. That doesn't, however, disconnect you from Messenger. Your conversations in messenger are still present. You have the ability to maintain Messenger connections without ever friending the individual on Facebook.
Delete Messenger Messages
If you want to fully remove a connection and your conversations, start by accessing your conversation in Facebook Messenger. Make sure to open the specific thread with the individual you wish to remove. Click the wheel in the top right corner to open the Options for the conversation. Choose "Delete Conversation" to remove all of the messages. Select the "Options menu" again and choose "Block User" to prevent any further interactions on Messenger with this individual. Next, open that person's profile in Facebook and choose "Unfriend" to permanently remove the connection and all conversations.
Deleting Wall Posts
Moving beyond private messages, you must manually delete any wall posts you've made in the past. Blocking the contact will prevent the person from posting on your profile and from seeing your profile and wall. If you have historic posts on your wall and comments, however, they may require manual deletion since they're independent of messages and conversations found within the Messenger ecosystem.