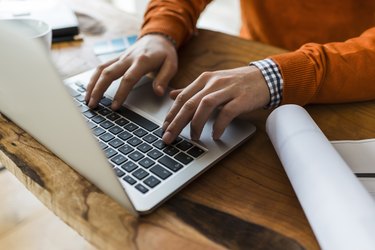 Maybe you've got a PowerPoint presentation about your favorite sci-fi masterpiece due tomorrow, or maybe you're just making posters for a local synthwave show. Either way, you're going to need a digital-looking font to sell that futuristic vibe.
There's no magic digital font generator to plug your text into, but whether you use a PC or a Mac, the process of finding, downloading and installing fonts of all sorts – from antique to ultra-modern – is a painless and oftentimes totally free process.
How to Find and Install Fonts
Your best bets for finding fonts online is heading over to one of the many sites that offer hundreds or thousands of downloadable digital font varieties. Sites like Font Squirrel, DaFont, Google Fonts and FontSpace, among others, offer free-to-use fonts, while places such as FontShop, Hoefler & Co. and House Industries host more premium designs that you must pay to use. Speaking of paying, always check the licensing agreement before you download – some fonts are completely free to use, others are free to use provided you attribute the creator and still others require licensing fees.
Once you've settled on that perfect digital clock font, download the .ttf or .oft file (Windows also supports .fon files, but OS X does not). If you're on Windows Vista to 10, simply right-click the file and select "Install" to install the font on your PC. If you're on an OS X system, double-click the font file and choose "Install font" to do the same.
Free Digital-Style Fonts
In the era of 4K and Retina displays, digital fonts are as smooth (or even smoother) than those in just about any book. If you're going for a look that screams digital, you probably want to replicate the style of early computer monitors or the retro LCD displays seen on digital watches and calculators. Fonts like Digital Dismay by NAL, Digital-7 by Style-7 and Digital Dream by Pizzadude fit that bill to a T. For a thinner font in the same vein, try SF Digital Readout by ShyFoundry Fonts, or give Loopy by Apostrophic Labs a look if you want a font that combines bubble lettering with a digital style.
How about something that still has that digital-clock vibe but is a little more edgy and streamlined? That digital font name would be the retro sci-fi Raptor Sans – sleek, inspired by book covers from the '60s and '70s and created by Panos Voulgaris. Similarly, Marske features that iconic digital stenciled look, but offers a slightly smoother, more rounded aesthetic.
If you prefer a free typeface with a pixelated look – like something out of a retro video game – LCD Solid Font by LCD Solid might be the ticket.
Paid Digital-Style Fonts
If you plan to use your font for public or commercial means, you may need to purchase a licensed font. The good news is that licensed fonts often come from premium design houses, so you're likely to end up with a professional-looking design.
If you're only in the market for digital-esque numbers, Hoefler & Co.'s Prospekt sports that bold, digital LCD style. Designed by Stephan Muller and Cornel Windlin in 1994, FF Dot Matrix recreates the dot-matrix look popularized by the scrolling LCD messages you see on scoreboards and traffic notifications. For a pixel-style alternative, Frank Ramspott's FR73 Pixel typeface will make you feel like you're playing Space Invaders. Both are available via FontShop.