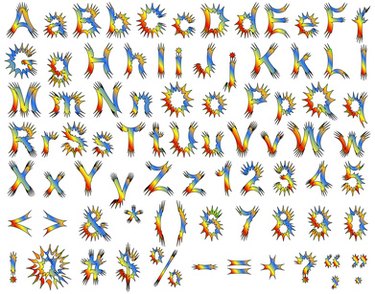 Computers allow Web and graphic artists to use thousands of fonts for their design purposes. If you have installed a corrupt font or the font file becomes damaged on your system, you may not be able to use the font on your design programs. You may also experience lagging or freezing when programs attempt to load these fonts. Both Apple and Microsoft provide utilities for you to find corrupt fonts. This allows you to reinstall the fonts so that they work properly.
Windows XP and Vista
Step 1
Open the fonts folder on your computer. On Windows computers it is located in the "Windows" folder on your "C" drive.
Step 2
Right-click the folder to select "Details" from the "View" menu, if details are not already showing.
Step 3
Scan the "Size" column with your eyes for fonts with a "0" size, which indicates a corrupt file. You can delete these fonts and reinstall, if you desire.
Mac OS X
Step 1
Launch your Font Book application.
Step 2
Select any font or multiple fonts by holding the "Command" button as you click the name.
Step 3
Open the "File" menu and choose "Validate Fonts". If the validation windows shows a check, your font is valid.
Windows
Step 1
Download and install Font Validator from Microsoft Typography (see Resources).
Step 2
Open the Font Validator application.
Step 3
Click the "Add" button to select your font file from any folder on your computer other than the Windows "Fonts" folder. It must not already be installed.
Step 4
Check off the specific font tests on the "Table Tests" tab or use the default settings.
Step 5
Click the red check-mark button to run the tests. The program will check for errors and display them after the test completes. Valid fonts typically display "Pass" for the error codes, but a valid code may still display some warning or error messages. If your font displays these errors and also does not work in programs, you may reinstall it.