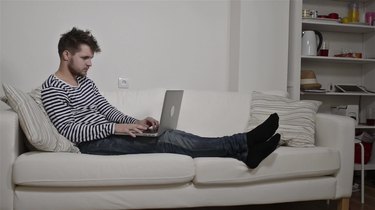 To add a Gmail account to a mail client such as Outlook you need to enter the addresses of Gmail's incoming and outgoing mail servers. The Simple Mail Transfer Protocol server at smtp.gmail.com handles all outgoing mail, while the Post Office Protocol server, pop.gmail.com, downloads your incoming mail. For both parts of your email to work, you need to change a setting on Gmail's website: enter these servers into your email client and change their port numbers to the addresses supported by Google.
Gmail Website Setup
Before you can set up a Gmail account in your email client, you need to enable POP3 on the Gmail website. Open the gear menu, click "Settings" and open the "Forwarding and POP/IMAP" tab. Choose either of the "Enable" options in the POP Download section -- the first "Enable" option makes it possible to import existing messages into an email client, while the second only works on new messages. Open the drop-down menu and choose what to do with emails on the Gmail website after your email client receives them. "Mark Gmail's Copy as Read" works well if you still want to use the Gmail site, or you can pick "Delete Gmail's Copy" if you won't use the site at all, and only use an email client on one computer. Scroll to the bottom of the page and click "Save Changes."
Email Client Setup
To add your Gmail account to Outlook 2013, open the "File" and click "Add Account." Using Outlook's automatic setup attempts to connect with IMAP instead of POP, so choose "Manual Setup or Additional Server Types" and click "Next." Choose "POP or IMAP," click "Next" and enter your full name, email address, user name -- the same as your email -- and password. If you use two-factor authentication on Gmail, you need to create and use an app-specific password for Outlook from your Google account settings. Choose "POP3" as the Account Type. Enter "pop.gmail.com" as the Incoming Mail Server and "smtp.gmail.com" as the Outgoing Mail Server (SMTP), each without quotes.
Server Port Setup
Outlook's default server settings don't work with Gmail, so before you click "Next," you also need to change a few advanced settings. Click "More Settings" on the Add Account window. Switch to the "Outgoing Server" tab and check "My Outgoing Server (SMTP) Requires Authentication." You don't need to change any of the options that checking this box activates. Move over to the "Advanced" tab and check "This Server Requires an Encrypted Connection (SSL)," which also automatically sets the port correctly to "995." Manually change the SMTP port to "465" and set the drop-down menu to "SSL." Click "OK," "Next" and "Finish" to add your account to Outlook.
Multiple Computers Setup
Normally, POP3 doesn't work well across multiple computers, as messages can vanish after downloading to one computer. However, Gmail has a workaround, "recent mode," which allows all computers to download the same recent emails. To use this mode, add "recent:" without quotes, but including the colon, before both your username and email address during setup. As an alternative, you could use Gmail's IMAP server, which avoids this limitation of POP3 entirely and preserves your email folders. The Mail app on Windows 8 can also connect to Gmail accounts without causing this issue, and without any advanced setup -- just enter your email and password.