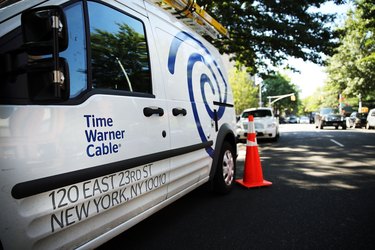 The Road Runner Web mail service provided by Time Warner Cable is a handy tool for accessing your email on the road, but sometimes it's more convenient to centralize all your accounts in one email client. You can add your Road Runner account to Outlook 2013 using the program's "Add New Account" wizard. Before you get started, gather your Time Warner Road Runner account information.
Step 1
Click the "File" tab in Outlook to open the File group, if it's not already open. Click "Account Settings" in the Info group and select "Account Settings" again on the drop-down menu. Click "New" on the Email tab to launch the Add New Account wizard.
Step 2
Click the "Manual setup or additional server types" check box and click "Next." You need to use a manual setup so that you can input your Road Runner Web mail information yourself rather than relying on Outlook to figure it out.
Step 3
Click "POP or IMAP" and select "Next." Use IMAP to retrieve mail from Time Warner's servers. When you retrieve your email using IMAP, copies of your messages are left on the server so you can access them from multiple devices. This is the ideal way to retrieve Web mail email in Outlook because you can also log in to your Road Runner Web mail account in your Web browser to read and respond to the same messages rather than having them stored solely in Outlook.
Step 4
Enter your full name in the "Your Name" field. This is the name people see when they receive an email from you.
Step 5
Add your full Road Runner email address in the Email Address field. This is the email address you use to send and receive mail in Road Runner Web mail.
Step 6
Click the "Account Type" box and select "IMAP." Enter "mail.twc.com" in both the Incoming Mail Server and Outgoing Mail Server (SMTP) fields.
Step 7
Click the "User Name" field under the Login Information heading and enter your full Road Runner email address.
Step 8
Enter your account password in the Password field and then place a check mark in the "Remember Password" check box to have Outlook save your password.
Step 9
Click "Test Account Settings" to verify that your account is set up properly. Outlook verifies that you can log in to the Road Runner mail server and sends a test message. When this test is complete, click "Next" and then click "Finish" to add your Road Runner Web mail account to Microsoft Outlook 2013.