Word doesn't have a tool that curves regular text in a document, and you'll need to put text in a box before you can apply this kind of orientation. Use WordArt to create stylized curved text or the Text Box tool to curve a regular font.
Curve Text in WordArt
Step 1: Insert a WordArt Box
Open the Insert tab and select WordArt. Select a letter style to insert a WordArt box. Don't worry if you can't find exactly the right style; you can edit it later. Type your text in the box.
Step 2: Curve the Text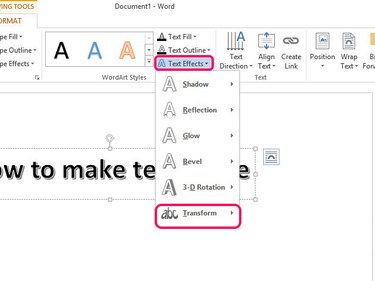 Select the box to open the Format tab. Select Text Effects in the WordArt styles area and open Transform.
Choose a curved style from the Follow Path or Warp areas. Select the style to apply the curve to the text.
Step 3: Customize the WordArt Text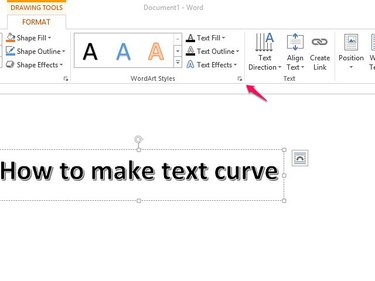 Select the box and open the Format tab. Select the arrow in the corner of the WordArt Styles pane to open the Format Shape menu.
Select the Text Fill and Outline button to change the text's fill and outline color and style.
Use the Text Effects button to add special effects to the text, such as shadow, reflection and 3-D styles.
Use the Text Options button to edit the text's position in the WordArt box.
When you're done, select the X on the menu to apply the changes.
Use a Text Box to Curve Text
Step 1: Insert a Text Box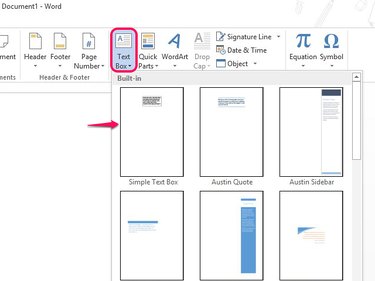 Open the Insert tab and select Text Box. Select the Simple Text Box option. Delete the placeholder text from the box and type your own.
Step 2: Add a Curve to the Text
Open the Format tab by selecting the box. Select Text Effects and then Transform.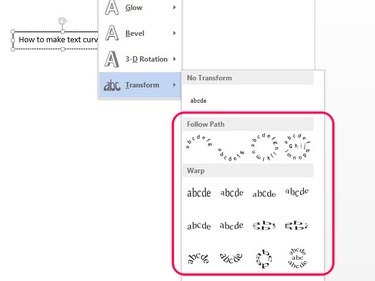 Hold your mouse over the curved styles in the Follow Path or Warp areas to preview how the text curves. When you find the right curve, select it.
Step 3: Format the Curved Text
Select the text and open the Home tab. Use the tools in the Font area to format the text. Note that the curve doesn't show once you select the text box; it defaults to regular text. However, the curve is still there and will show again when you click out of the box.
Change the font and text size in the Font boxes; use the buttons below to make the text bold, italic or underlined.
To switch the text to WordArt, or to add elements of WordArt to it, select the Text Effects button.
To remove the border from the text box, open the Format tab and then Shape Outline. Select No Outline. Once you have finished formatting, your text will appear with the curve and your additional formatting options.