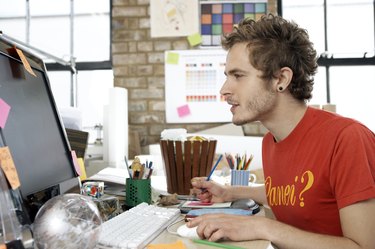 WordArt extends the functionality of text in Microsoft Word documents. You can customize your text using shapes to make your words come alive. WordArt is available through the Drawing and WordArt toolbars. You can add shadows, rotations, and brilliant colors to text. You'll find a variety of shapes you can use--everything from slants to circles. WordArt turns your text into an image, and you can use your mouse to emphasize a shape once it's added to the page.
Step 1
Go to Microsoft Word and open a blank or existing document.
Step 2
Open the "WordArt" toolbar by clicking on "View," "Toolbars," and "WordArt."
Step 3
Click on the "Insert WordArt" button in the toolbar to open the "WordArt Gallery" dialog box. Select a semi-circle and click "OK."
Step 4
Type in the text you want to use in the "Edit WordArt Text" dialog box. Choose your preferences for font, size, and formatting, and click "OK." The WordArt will be placed onto your page.
Step 5
Select the image text on your page. Then use your mouse to pull on the corner of your WordArt (in the curve). Pull down the corner until the shape becomes a half-circle.
Step 6
Choose a different half-circle by selecting your text. Then click on the "WordArt Shape" button in the "WordArt" toolbar and pick the "Arch Up (Curve)," "Arch Down (Curve)," Arch Up (Pour)," or "Arch Down (Pour)" shape from the options.