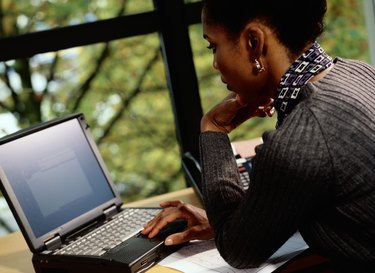 The Home tab of Microsoft PowerPoint has outlining options that include Roman numerals, located in the Home tab's Paragraph section. You can select the default Roman numeral setup for your outline, or you can go a step further and customize the appearance of the numerals. If you have images of Roman numerals, you can insert those anywhere.
Basic Numbering
To begin a new outline using Roman numerals, click the drop-down arrow beside the Numbering button, which is in the Paragraph section of the Home tab. There you can click on the Roman numeral outline option that appears. To change an existing outline to use Roman numerals, highlight the portion of the outline that you want to change and select the Roman numeral option by clicking the Numbering drop-down menu. Alternatively, you can use a keyboard shortcut by pressing "Alt-H-N," which brings up the Numbering drop-down menu, and you can select the Roman numeral outline with the arrow keys.
Advanced Options
If you want to further customize your outline, when you click on the Numbering drop-down menu, select "Bullets and Numbering." In the window that opens, you can change the outline's color and size, and you can choose to have the outline begin at some number other than one. Changing the color and size will only change the Roman numerals in the outline; the text of your outline will not be affected.
Image Insertion
If you have one or more pictures of Roman numerals that you want to insert into your presentation, click the "Insert" tab and then the "Picture" button in the Images section. In the window that appears, navigate to the image you want to insert and double-click it to place it on your current slide.