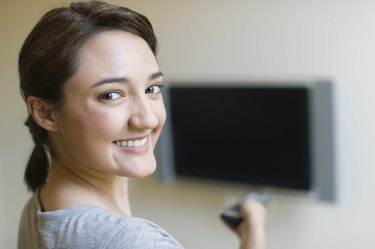 Dish Network universal remote controls are programmable to work with multiple components in your home entertainment center. Sylvania televisions are compatible with Dish Network remote controls. Instead of using two separate controls to operate your Dish Network receiver and Sylvania television, you can program the Dish Network remote to work with your television, eliminating the need for the TV remote.
Programming
Sylvania manufactures several different models of televisions. The Dish Network remote control has several different codes to program the remote to work with Sylvania televisions. Before starting the programming procedure, refer to the Dish Network remote control manual or visit the Dish Network website for the list of Sylvania codes. A link for the site is found in the Resources section.
Turn on the television before you start programming the remote control. Press and hold the button with a symbol of an antenna on it until the "SAT" and "TV" button indicator lights turn on. When you let go of the antenna button, the "TV" button indicator light will blink. Press the "TV" button and enter the first Sylvania code using the remote control's number pad. Save the code by pressing the "Mute" button.
Test the code by pressing the "TV" button. The television will shut off if the code entered is compatible with your Sylvania television model. If it does not turn off, repeat the programming process with the next code on the list, and continue in this manner until you find the code that operates your television.
Some of the codes may operate the television but none of the other television controls. To test if the codes works with the other controls, press the "TV" button to turn the television on again. Change the channel with the number keypad and adjust the volume with the "Volume" buttons. If the other control buttons do not operate the television, repeat the programming procedure with the next code on the list.
You are ready to use the Dish Network remote control with your television once you find a code that operates all of the controls on your Sylvania television.