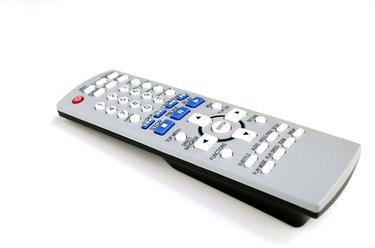 The RC27A remote is a model of universal remote control that was produced by the RCA company and shipped with their line of digital converter boxes used with many televisions across the United States. This remote will automatically work with the converter box once it is set up properly, but can also be programmed to operate most brands of televisions that you might have the converter connected to. The RC27A remote will operate RCA televisions out of the box and can be programmed to work with other brands.
Step 1
Turn on the television you want to program into the RC27A remote using the "Power" button on the device's control panel. Keep other electronic devices in the area turned off during the programming process.
Step 2
Locate the list of codes for your television using the code tables in the back of the users guide that came with the RCA product that features the RC27A remote. These tables list codes by manufacturer, not the model name, of your television. Write down all the codes that appear as you may need to try more than one to find one that works with your equipment.
Step 3
Press the "Program" button on the lower left-hand corner of the remote. The "Power" indicator light will come on and stay on indicating that you have entered programming mode.
Step 4
Use the number pad in the center of the remote to enter in the first three-digit code on the list for your television. Do not hold any number down while pressing it and pause briefly between each number. When finished, press the "OK" button to save the code. The indicator light will turn off if the code is recognized.
Step 5
Press the "Volume" buttons on the remote to see if they change the volume on your television. If so, use all of the other buttons on the remote to make sure you have full control over the device. If not, repeat the process using the next code on the list until you find one that gives you full functionality.