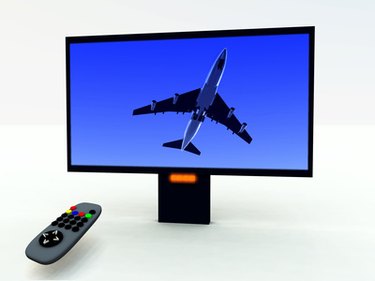 Time Warner Cable company provides cable, Internet and phone services to thousands of customers across the United States. The Time Warner cable service comes with a universal HDTV remote that can be used with your television or other devices that you have connected to your home theater system. If you have a television that supports picture-in-picture (PIP) technology, you can enable the function to enjoy PIP once you program your Time Warner remote to work with the television.
Step 1
Turn on your television. In order to enable PIP, you will need to program the Time Warner HDTV remote to work with your TV.
Step 2
Locate the manufacturer's codes for your television in the user's guide that came with your Time Warner HDTV remote. Search for the brand of your television, not the model. If you do not have the user's guide, you can find a copy on the Time Warner support website (see Resources). Write down all the codes that appear, as you may need to use more than one.
Step 3
Press the "TV" button near the top of your remote once. Release it and hold down the "Setup" button until the "TV" button blinks twice. When this happens release the "Setup" button.
Step 4
Enter in the first code that appears for your television using the number pad in the middle of the remote. If done correctly, the "TV" button will blink twice. When this happens, press the "Power" button. If your TV turns off, turn it back on and test all of the buttons to make sure they work. If not, repeat Steps 3 and 4 using the next code on the list until you find one that fully works.
Step 5
Press the "PIP On/Off" button near the bottom of the remote to enable PIP once you have programmed your television. This button will switch the PIP function on and off. The "Swap" button next to it will switch back and forth between the main image and the channel that is in the secondary box. The "PIP Move" button will move the smaller image to different positions on your screen, while the "Up" and "Down" buttons next to it will change the channels on the secondary image.