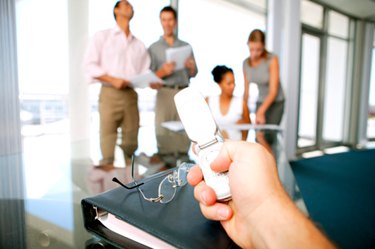 The Panasonic phone includes features such as a speakerphone, LCD display and backlight dial keypads. It provides your office with one-touch access to all of the phone's features and important calls you need to access. It also has a message indicator light for when a voicemail comes through on your phone. However, you cannot receive voice mail until you set it up on your phone. Once you set up your phone number and extension, you can just dial that specific extension to access and set up your voicemail.
Step 1
Dial your extension. Wait for the greeting to say that you are at your voice mailbox. This is also the "Quick Voice Mail Tutorial Set Up."
Step 2
Follow the instructions provided in the tutorial. You will be asked to enter your name (or company name), password and greeting. Write down the password and keep it in a safe place.
Step 3
Record other greetings, if needed. After the tutorial, you have an option to add different messages for different situations. Press "311" to change your general greeting. Use "312" to record a message for when the line is busy. Dial "315" to record a temporary greeting for when you are away for an extended period of time, such as vacation.