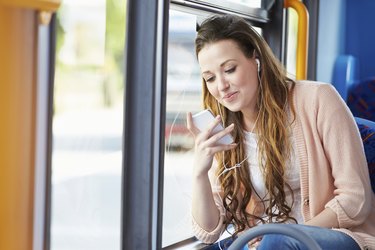 While some people like to move straight through an iTunes library in sequence, others like to skip around at random. The shuffle feature in iTunes 11 is designed for those that seek a bit of exciting musical randomness. If you're one of these people, turn shuffle on to have iTunes select songs for you at random.
Shuffle Songs in iTunes for Windows and Mac
To shuffle songs in iTunes 11 for Windows and Mac, click the "Shuffle" icon on the iTunes LCD at the top of the screen. The Shuffle icon resembles a pair of crossed arrows and is located next to the time remaining on the current track.
You can also turn shuffle on via the Controls menu. Click "Controls" on the main menu, highlight "Shuffle" and select "Turn On Shuffle."
Shuffle Types and Tips
iTunes also enables you to set the type of shuffle you want to use. The three available types are Song, Album and Grouping. The Song type is selected by default when you turn shuffle on. To set a shuffle type, click "Controls," highlight "Shuffle" and then select either "By Songs," "By Albums" or "By Groupings."
To shuffle songs within a particular album, double-click the album cover in your iTunes library to load its track list and artwork. The first song starts playing by default. Click the "Shuffle" icon next to the Play button to have iTunes play a random song in the album. When the song ends, iTunes automatically selects a new song at random from the same album.