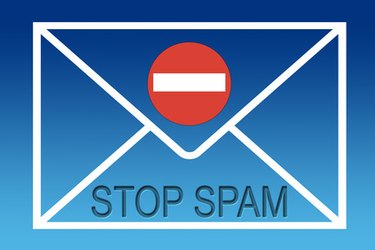 If you have an email address, you've most likely received messages from online pharmacies plugging Viagra or Cialis. It doesn't matter whether you are male or female. Spammers send millions of messages, hoping to reel in a few customers. Email is cheap, so these companies make a profit even if they only make a few sales. The Food and Drug Administration warns that people who place orders often get counterfeit Viagra or Cialis that is useless or potentially dangerous. It's hard to stop these spammers, but there are some ways to avoid their messages.
Step 1
Create a new email address. The Federal Trade Commission advises choosing an unusual user ID. Online pharmacies and other spammers often send messages to lists of common names. Your user name should not be something that can be easily guessed.
Step 2
Notify your legitimate contacts of your new email address. Ask them not to forward chain emails to it or give it to referral websites, social networking sites or any other third party. Online pharmacies often create mailing lists from data willingly entered by people who think they are doing you a favor by referring you for a special deal.
Step 3
Set your email account to automatically delete emails containing spam-related versions of the words "Viagra" and "Cialis." This is usually done by creating a rule that checks all incoming messages. Online pharmacies often use odd spellings like "Vi@gra" or "Cia!is" to trick spam filters. If you receive spam with these words at your new email address, add them to a rule that deletes them immediately.
Step 4
Make online purchases only from reputable companies. Anyone can create a legitimate-looking business website. Some are just fronts for collecting personal information, email addresses and even credit card numbers. You'll be targeted by online pharmacies and other spammers if you enter your information on a fraudulent site. Stick with established online firms like Amazon, Buy.com or sites affiliated with well-known stores like Target and Walmart.
Tips & Warnings
Do not click the "unsubscribe" link in spam plugging Viagra or Cialis. The message may claim that clicking the link will remove you from the mailing list, but it really confirms that the address is a good one, the message made it through the spam filter and a live person read it, according to the McAfee computer security site. You will be bombarded by more messages from the pharmacy, and it will sell your address to other spammers.