Norton AntiVirus and its related tools are designed to keep your computer safe but can sometimes interfere with the installation of desired programs or the functionality of your Web browser. You can temporarily disable Norton services to control the details of your computer's security, then re-enable them to stay safe on the Web.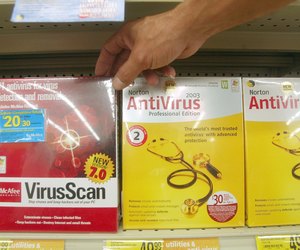 credit: Joe Raedle/Getty Images News/Getty Images
Disable Norton AntiVirus and Smart Firewall
Step
Click the small triangle on your Windows taskbar to open the notification area (formerly known as the system tray). Right-click the Norton Internet Security icon for a list of options related to the security suite.
Step
Click "Disable Smart Firewall" to temporarily shut down the firewall. Use the "Select the duration" drop-down in the Security Request window to select a duration for the temporary shutdown and then click "OK" to activate. It's best to shut down the firewall only for the duration of whatever task you're attempting to complete. For example, if you're installing a new application, disable the firewall for just a few minutes during installation.
Step
Click "Disable AntiVirus" to temporarily disable anti-virus protection. As with the Disable Smart Firewall option, Norton prompts you to select a duration for the shutdown. Click "OK" to activate the shutdown. Your system is exposed to threats when its anti-virus and firewall are disabled.
Control the Norton Toolbar
Step
Disable Norton's browser toolbar in Internet Explorer or Firefox by clicking "View," selecting "Toolbars" and un-checking Norton Toolbar. You can re-enable the toolbar at any time by re-checking the box. Click "OK" to save your settings changes.
Step
Disable Norton Toolbar in Chrome by clicking the Chrome menu, selecting "Tools" and choosing "Extensions." Uncheck "Enabled" to turn off the toolbar or check "Enable" to turn it back on. Settings are saved automatically.
Step
Hide the Norton Toolbar button in Chrome by right-clicking its icon and clicking "Hide Button." You can re-enable the button from the Norton Toolbar entry in Chrome's Extensions menu. The Norton Toolbar provides you with safety ratings for every website you visit.
Turn off Norton's Automatic Renewal
Step
Navigate to the Norton Management website (see Resources) and log in to the site.
Step
Scroll to "Automatic Renewal" to view all products that are automatically renewed each year. Click the slider to change automatic renewal to the "Off" position. Click "Turn Off" on the pop-up window to confirm deactivation.
Step
Sign out of your Norton account. Once automatic renewal is disabled, Norton's services no longer bill you each year upon renewal. Instead, you are prompted to renew when your current subscription runs out.