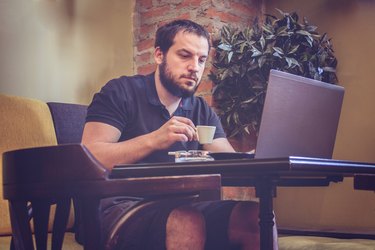 A computer has several areas from which historical information may be collected. These areas include browsing history, software installation history and general hardware and device history. Looking at these different historical information types requires the use of different tools such as browsers, external applications, Windows Defender and the System Information tool.
Browser View
When your computer goes on the Internet, the browser used to visit websites keeps track of these links in a temporary file on the hard drive. To see a list of visited websites in Internet Explorer, for example, click the "Favorites" star icon and select the History tab from the menu that opens. In Firefox, choose the "Firefox" menu, select "History" from the menu and click "Show All History."
External Applications
There are also applications that help look into browsing and computer event histories. For example, Computer History Viewer, a freeware application on Download.com, describes its product as being able to view Windows' run history, the open and save history, recent documents, User Assist History, Internet Explorer history, and index.dat files.
Windows Defender
Windows Defender is an application that comes with some Windows installations. This application is found in two ways. You can launch Windows Defender by clicking the Windows "Start" menu, typing "defender" into the Search field and pressing "Enter." Once Windows Defender has been opened, navigate to recent software installations by going to the "History" tab at the top of the application window. The choices here include deleting recently installed software that may harm your computer, such as spyware.
System Information Tool
Another way to gain deeper technical information and the history of your computer is by using the System Information Tool. According to Microsoft, "System Information collects system information, such as devices that are installed in your computer, or device drivers that are loaded in your computer, and provides a menu for displaying the associated system topics." To access this tool, click the Windows "Start" menu, select "All Programs," choose "Accessories," select "System Tools" and click "System Information."