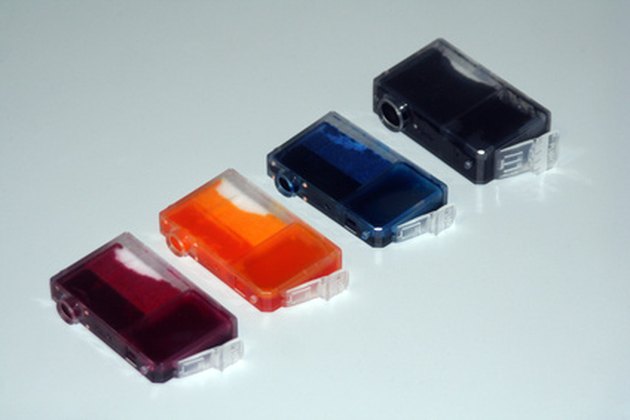 The Brother MFC-240c is an all-in-one printer. The unit offers quality printing, scanning, copying and faxing. The unit also is equipped with media card slots to print high-quality pictures directly from your memory card. The MFC-240c includes an ink dot counter that monitors the ink level of each cartridge. The unit has four separate cartridges and will prompt you on the LCD screen when a cartridge needs replacing. To ensure high-quality output of your unit, it's important to replace the cartridges when prompted.
Step 1
Lift the ink cartridge cover, located in the right front corner of the machine. The LCD screen will tell you which cartridges need to be replaced once the cover is open.
Step 2
Push the lock release lever down to release the ink cartridge. Pull the appropriate ink cartridge out. Remove the new ink cartridge from the packaging and remove the protective yellow cap.
Step 3
Install the new ink cartridge by following the arrow printed on the cartridge that shows you the direction in which to insert the cartridge. Each color has its own position, so it's important to follow the arrow to prevent damage to the unit.
Step 4
Pull the lock release lever up until it clicks. This tells you the cartridge is securely in place. Close the ink cartridge cover.
Step 5
Press the "1" button to reset the ink dot counter for the cartridge that was just replaced. The LCD screen will prompt you to confirm the ink cartridge was replaced and will not allow you to use the unit until the number "1" is pressed once. Repeat this process for any other cartridge that needs replacing.