When you become a T-Mobile subscriber, you will receive a SIM (Subscriber Identity Module) card along with the purchase of a phone through T-Mobile. The SIM card can either be installed and activated by going into a T-Mobile store, or you can install it yourself after the SIM card has been activated through T-Mobile. SIM cards are used to store a subscriber's rate plan information and contacts. The cards can be switched from one phone to another within the T-Mobile network. Contact T-Mobile if you are switching from two different data plans, such as from a BlackBerry to G1.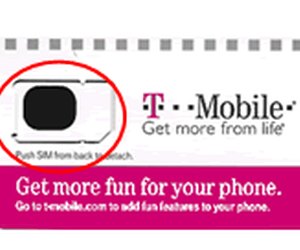 Step
Turn off your phone before inserting the SIM card. When you open an account with T-Mobile, you will receive a SIM card on a flat plastic card the size of a credit card. The SIM card is slightly larger than the size of a thumbnail. Detach the SIM card from the plastic T-Mobile card.
Step
Find the battery cover release button. It is located in different locations according to what type of phone you have. It's usually at the top of the phone towards the back. Push the button and gently pull the back cover off the phone.
Step
Remove the battery. Underneath where the battery was, you will notice a small steel door that has gold contacts behind it. Open the door carefully to expose the gold contacts.
Step
Take your SIM card and place it gold contact-side down, so that gold is touching gold. Close the small steel door.
Step
Put the battery back, making sure it snaps into place and that gold is still touching gold. Then place the back cover back on the phone, ensuring that it snaps back into place.
Step
Turn on the phone on. Your information should be correctly stored in the phone.