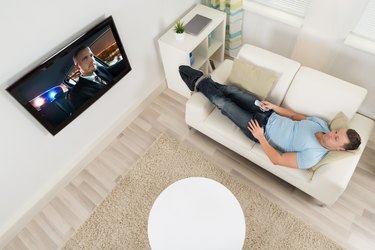 Samsung LCD TVs are designed with an automatic channel search feature that scans your television service connection and adds all of your available channels to your saved channels list. Channels that do not have a strong signal or that were not available when you performed the automatic channel search will still appear on the channel list, but are not available when scrolling through the channels. You can manually add channels that are not available so that they appear when you scroll through channels on your Samsung LCD TV.
Step 1
Press the "Menu" button on the remote control to access the television's main menu.
Step 2
Push the up or down arrow buttons on the remote control to highlight "Channels" and press the "Enter" button, which is located in the middle of the arrow buttons.
Step 3
Select "Channel List" from the "Channels" menu screen. A list of saved and deleted channels will appear on the screen. A channel colored gray indicates the channel is deleted and not accessible on your television.
Step 4
Highlight a deleted channel using the arrow buttons and press the "Tools" button on your remote control.
Step 5
Press the up or down arrow button to highlight "Add" and press "Enter" to add the channel to your saved channel list.
Step 6
Repeat Steps 4 and 5 to add other channels to your saved channel list.