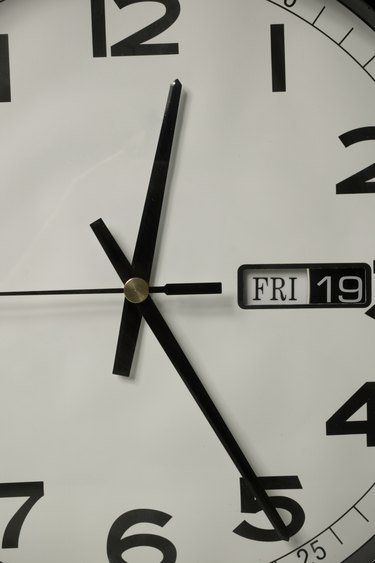 When you announce a meeting or event in your email message, you can insert a countdown timer that displays how much time remains until your event starts. These timers can announce birthdays, reunions, sales and other social or business events. A timer offers a visual reminder to your recipients every time they read your message. Free versions of countdown timers are available on the Web. These downloadable applications feature the information you provide, such as the name, date and time of your event.
Step 1
Click "Start" and type "Windows Live Mail" into the search box. Click "Windows Live Mail" in the search results to open the program.
Step 2
Log into your account -- or create one if you don't have one. The inbox appears.
Step 3
Click the "New" button to display a blank message screen.
Step 4
Click the arrow for the text formats. In Hotmail, this text format button is located between the "Spell check" button and the red "!" symbol. A list of text options appears, including "Edit in HTML."
Step 6
Type the URL in the address bar for one of a countdown timer websites, such as Time and Date (timeanddate.com/counters), Daisypath (daisypath.com/create.html) or Ticker Factory (tickerfactory.com).
Step 7
Click to select a countdown timer option. A fillable form appears.
Step 8
Type in the details for this timer event. For example, the name of the event and the date.
Step 9
Click the "HTML" or "Generate Code" button on the timer's website. The specific code for your event shows in a text box.
Step 10
Copy this HTML code from the timer website.
Step 11
Paste this HTML code in the Hotmail email message screen.
Step 12
Click the arrow next to the "Edit in HTML" format option. Click the toolbar option for "Rich text." The HTML code converts to "Rich text." View the timer in the message screen.