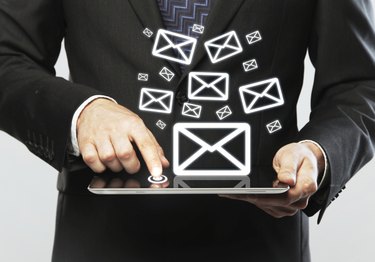 A Yahoo mailing list streamlines your outbox and takes the chore out of adding individual recipients to whom you frequently send emails. When you're ready to send out a mass message, you need only type the name of the group to distribute the message to everyone within it. You can later update this list and add additional names using the main Contacts interface of your Yahoo mailbox.
Adding Contacts
There are two methods for adding contacts to a current distribution list. The multi-step method involves switching to the Contacts view and clicking the check box next to the contact name you'd like to add. From there, click "Assign Contacts," select the desired distribution list, and click "Done" to complete the process. For faster, one-step incorporation, simply drag and drop the desired contacts into the appropriate distribution list.
Contacts With Multiple Emails
It's important to note that Yahoo only focuses on and inserts the contact's primary email address into distribution lists. This can become problematic, for example, if you want to add your Aunt Jane's personal email address to a family distribution list, but have her work email address filed first in her contact listing. To remedy this, create a separate contact entry with only the preferred email, then add that contact to the distribution list instead.