Microsoft Outlook lets you send emails to more than one recipient at once by selecting multiple addresses from your contact book. If you plan on frequently sending emails to the same mailing list, consider adding those contacts to a contact group to save time.
Tip
Some email providers impose limits on the number of emails you can send per day. For example, Gmail lets you send emails to up to 100 recipients at a time while using a third-party application such as Outlook. Contact your email provider or visit its support website to find out how many emails you can safely send without fear of getting your account suspended.
Warning
If you plan on sending emails to a mailing list, ensure that your email complies with the provisions of the CAN-SPAM Act to avoid legal issues. The CAN-SPAM Act, for example, requires you to include your physical address in the body of the email and provide recipients with a link or email address that lets them opt out of your list.
Send an Email to Multiple Recipients
Step 1
Click the New Email button and select To to open the Select Names window.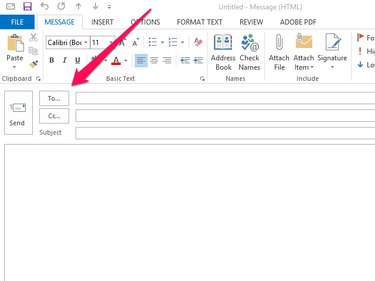 Step 2
Select the address book containing the intended recipients from the Address Book drop-down menu. Double-click each of the contacts you want to send your mailing to and select OK to close the window.
Tip
If you want to send an email to contacts who do not know each other, protect their privacy by entering their addresses in the BCC field. To do so, place your cursor in the BCC field before double-clicking contacts.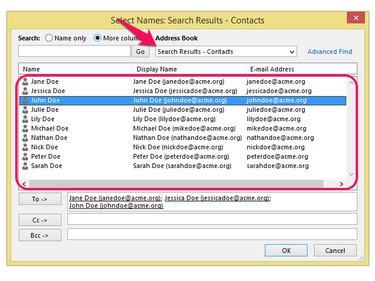 Step 3
Compose your email and click the Send button to send it to the selected contacts.
Use a Contact Group
Using Outlook's contact group feature lets you save time by adding a list of recipients to an email with a single click.
Create a Contact Group
Step 1
Select People from Outlook's Navigation bar.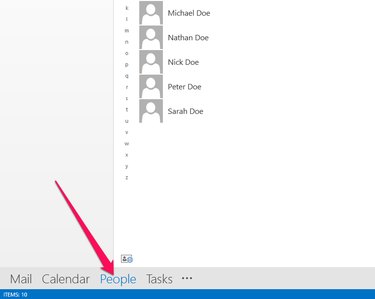 Step 2
Open the Home tab and click the New Contact Group button.
Tip
If you have multiple address books, select the one you want to which you wish to add the contact group by selecting it from the My Contacts pane before clicking the New Contact Group button.
Step 3
Enter a name for your new group in the Name field.
Step 4
Click the Add Members button.
Step 5
Select From Outlook Contacts or From Address Book to add, respectively, contacts from your default Outlook contacts list or from a secondary address book. Alternatively, add new contacts to the group by clicking New E-mail Contact.
Step 6
Click Save & Close when you have finished adding contacts.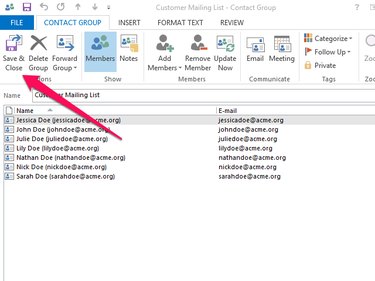 Send an Email to a Contact Group
Send an email to a contact group by creating a new message, clicking To and selecting the contact group from the Select Names window.