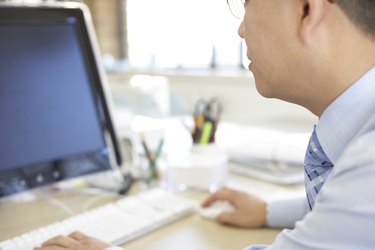 Outlook is a personal information manger provided by Microsoft as part of the Office Suite software package. This handy program has many facets. It provides email communication, a calendar and a task manager. One of the most vital functions provided by Outlook is the ability to manage a contact database. This works as an electronic phone book with email capabilities. Outlook can be used as a stand-alone application or in conjunction with other software in the Office package. Starting a database using Outlook is a straightforward process that will help you stay organized and save time.
Set up Database
Step 1
Open Outlook on your computer.
Step 2
Click on "File" at the top of the screen. Move your pointer down to "New and then click "Contact." This will open a blank contact form.
Step 3
Fill in the information on the contact form. To enter multiple entries for one field, such as two phone numbers, use the down arrow next to the field. This will add a second line. For multiple mailing addresses, set a default for mail merge by checking the "This is the mailing address" check box next to the appropriate entry.
Step 4
Name the contact by entering data in the "DisplayAs" box. Any messages sent to this client will list this name in the "To:" section. For instance, if you complete a contact form for FlowersRUs, this may be the name of the business but you may want messages addressed to John, the manager. John's name would go in the "DisplayAs" box.
Step 5
Select the "Add" button at the bottom of the form after each contact to save it.
Step 6
Double-click on the contact name, on the left hand side of the Outlook screen, to edit information.
Create a Contact from E-mail
Step 2
Right-click on the name of the sender, the options menu will open.
Step 3
Click on the "Add to Contacts" option that appears in the menu next to your cursor.
Create Database Groups
Step 1
Create a group folder. Click on "File" at the top of the screen then select "New" and "Folder."
Step 2
Assign a name to the folder in the box that appears.
Step 3
Select "Contact Items" from the Folder Contains box. Click on the arrow next to Folder Contains to open the list and highlight Contact Items.
Step 4
Determine where you want to store the folder. Click on the location on your hard drive and then the "Ok" button to save it.
Step 5
Drag and drop the individual contacts to the new folder.