You can add any email account to your iPhone's default Mail app, as long as your provider offers either IMAP or POP access to it; the app also includes built-in configuration settings to make it faster to add email accounts hosted on popular providers such as Outlook.com, Yahoo and Gmail.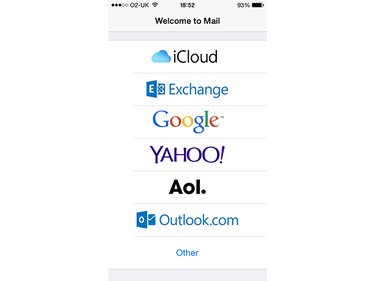 To begin adding a email account, launch the Mail app and tap your email provider. If the one you use isn't in the list, tap Other instead.
Tip
Once you've added a first email account, the Mail app will display your messages. To reach this screen again and add more accounts, launch the Settings app, tap the Mail, Contacts, Calendars option and then tap Add Account.
Adding the Account
The process to add your email account varies depending on whether you're using Gmail, Yahoo, AOL, Outlook.com or another email provider..
Gmail
Step 1
Enter your email address and password in the text field and then tap Sign in.
Step 2
Tap Accept to grant the Mail app permission to access your email account.
Yahoo, AOL or Outlook.com
Fill in the text fields with the appropriate information and tap Next. The text fields you'll see depend on the email provider you selected. The email, password and description fields are always there; the description field is automatically filled with the name of your email provider, but since it's used to identify the email account in the list of accounts on the iPhone, you may want to change it to something more descriptive. Yahoo and AOL also require that you enter your name.
Other Providers
Step 1
Fill in your name, email address and password, as well as a descriptive name for the email account — this name will be used in the list of accounts on the iPhone. Tap Next.
Step 2
Tap either IMAP or POP, depending on the method used to access your email account.
Step 3
Fill in the server information for your email account and tap Next. Some information, such as your password, is already filled in, so you don't need to retype it.
Tip
If you don't know the server information for your email account, try entering your email address in Apple's Mail Settings Lookup page. If that fails, contact your email provider.
Finishing up
Regardless of the type of email account you added, you will now be presented with a series of switches that determine what types of information will be synced. Mail and contacts are always available; depending on your email provider, you may also have access to other information, such as calendars, reminders or notes. Toggle the switches on and off to your liking and then tap Save to complete the process and add the email account to your iPhone.