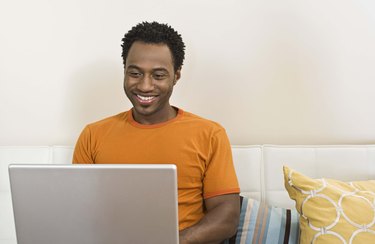 Gmail provides a free email service that lets you attach files to messages and features a rich text editor that supports special fonts and formatting styles. If you want to place a clickable banner or insert buttons into your message's body, Gmail supports an experimental feature for the rich text editor that lets you insert images directly in the message. You can use this feature along with a hyperlink so that readers can click the image to navigate to a selected website.
Step 1
Log into the Gmail website and click the "Options" icon, which resembles a gear, in the upper-right corner of the page.
Step 2
Select "Mail Settings" and click the "Labs" option. Scroll down and locate the "Inserting Images" option. Click "Enable" to the right of the option, then click "Save Changes" at the bottom of the page.
Step 3
Click "Compose Mail" in the left column of the page. Type the receiver's address in the To field and type a subject in the subject line.
Step 4
Click the "Insert Image" icon that looks like a small picture on the list of options below the subject line. Click the "Browse" button to select an image from your computer. To add an image from a URL, click "Web Address (URL)," then type or paste the URL in the Image URL box. Click "OK" to add the image in your email.
Step 5
Click on the image in the message body, then click the "Link" icon. Type the website address in the To What URL Should This Link Go? field and click "OK."
Step 6
Type the rest of the message's body, then click "Send" to send the email.