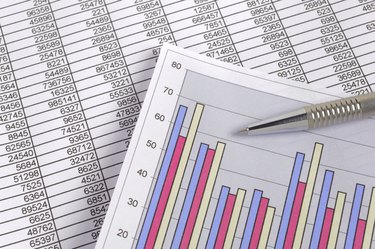 Expand your Microsoft Excel workbook with the New sheet button to insert blank sheets as you compile more data. Each new numbered worksheet includes a sheet tab that resembles a binder's index tab at the screen's bottom. Update your workbook by renaming the tabs and rearranging the worksheets in your preferred sequence to help you keep your data organized.
Insert a Worksheet
Click anywhere on the worksheet and then point over the "+" symbol or "New Sheet" button located next to the last sheet tab and above the status bar. Click "New Sheet" to display a blank worksheet with a numbered sheet tab. As an alternative, click the "Home" tab on the command ribbon, click the "Insert" arrow button and then select "Insert Sheet" to display a blank worksheet in front of the last open worksheet.
Disclaimer
Information in this article applies to Microsoft Excel 2013. Procedures may vary with other versions or products.