If you have been receiving threatening, harassing or annoying messages from a specific Facebook user, prevent that person from sending you any more messages by blocking her profile. Alternatively, if you regularly receive messages from strangers in your inbox, consider editing your Facebook message filtering settings.
Block a Profile
Blocking a profile unfriends that person and prevents her from interacting with you by sending you private messages or sharing posts on your Timeline.
Tip
Blocking a user also prevents you from visiting that person's Timeline or sending her messages.

You may still see messages from the blocked user in your conversation history as well as on groups or pages you both Liked.

If you do not want to completely block the user, unfriending her may direct future private messages from her to your Other message folder instead of your regular inbox.
Mobile App
Step 1
Visit the profile of the user you want to block and tap the three-dots icon to open a pop-up menu.
Step 2
Touch Block to block that user.
Facebook Website
Step 1
Visit the profile of the person you wish to block and open the three-dots menu.
Step 2
Select Block from the menu.
Step 3
Click the Confirm button to finish blocking the selected user.
Edit Your Message Filtering Settings
Much like the spam filter Web mail platforms provide to their users, Facebook comes with a message filtering feature that automatically directs potentially unwanted messages to a special folder called Other. While that feature's default setting does not filter messages from people you may know -- such as users who are friends with your friends -- the Strict Filtering setting lets you keep your inbox free from messages sent by users you did not friend.
Tip
You cannot access the contents of your Other folder by using either the Facebook or Messenger mobile apps. To view your Other folder on a mobile device, visit the mobile version of the Facebook website in your smartphone's browser.

Even with Strict Filtering enabled, messages originating from Facebook users who are not currently friends with you may still periodically appear in your inbox -- for example when someone pays to ensure Facebook directs her post to your inbox or when a fellow member of a group you joined sends you a message.

Warning
Facebook does not send you a notification when a new message arrives in your Other folder. Avoid missing potentially important messages by regularly visiting that folder.
Mobile App
Step 1
Tap the triple bar icon to open the app's menu and select Privacy Shortcuts.
Step 2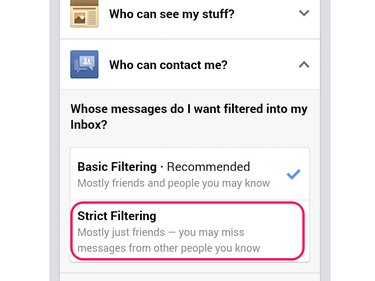 Facebook Website
Step 1
Click the padlock icon and select Who Can Contact Me?
Step 2