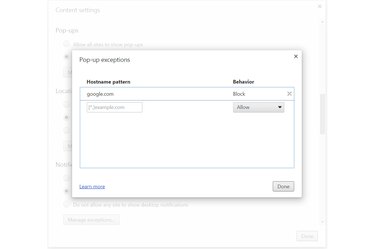 By default, the Chrome Web browser for Windows blocks most unwanted pop-ups, leaving you the option of viewing blocked pop-ups on a case-by-case basis. To adjust the pop-up blocker settings to allow or deny all pop-ups, or to create exceptions that allow or deny pop-ups from specific websites, open the Content Settings window from the Privacy section of Chrome's settings. If Chrome fails to block pop-ups no matter your settings, however, your computer might be infected by malware.
Step 1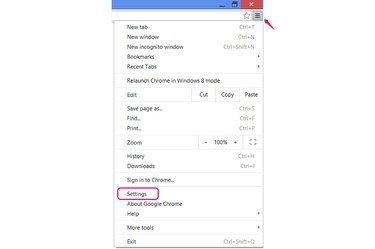 Open the Chrome menu and click "Settings." Alternatively, open the settings page by entering "chrome://settings" in the address bar.
Step 2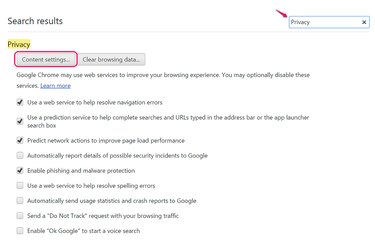 Type "Privacy" without quotation marks into the "Search Settings" box to filter Chrome's long list of options. Press the "Content Settings" button in the search results.
Step 3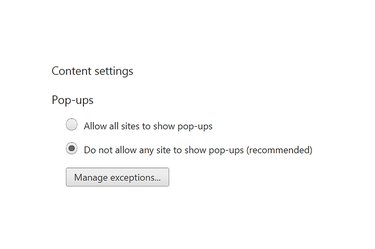 Scroll down in the Content Settings window to the Pop-ups section. Choose "Do Not Allow Any Site to Show Pop-ups (Recommended)" to block all pop-ups other than the exceptions you have set. Alternatively, pick "Allow All Sites to Show Pop-ups" and press "Manage Exceptions" to block only pop-ups on specific sites.
Step 4
Type a website's address in the "Hostname Pattern" box and choose "Block" in the Behavior column to block pop-ups on a specific site when using the "Allow All" option. When using the "Do Not Allow Any" option, add websites and choose "Allow" to create exceptions for sites with useful pop-ups.