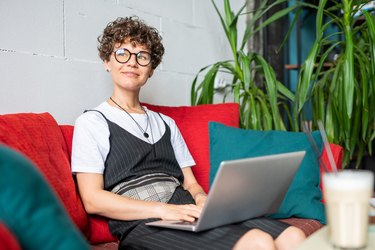 Over the past five years, the staggering rise in popularity of dating apps such as Tinder, Bumble and PlentyOfFish has fundamentally redefined the ways in which adults connect with one another romantically. Although the verdict may still be out as to whether dating apps actually do lead to fulfilling connections, they have become the "industry standard" means for meeting new people regardless.
As a security measure, many of these apps require users to create an account before they can begin browsing potential matches. If you are trying to browse singles without registering, you will be out of luck on the majority of platforms. However, there are ways to avoid signing up using publicly visible accounts like your social media profile.
Dating App Registration Basics
Although it is understandable that some individuals may wish to use dating apps or browse potential matches without creating an account, the reasons for these registration requirements are relatively straightforward. Registering an account with an app such as Tinder not only provides you with a means for connecting with matches over a long-term period, but also ensures that your name and contact information can't be used simultaneously by a fake account.
In essence, this helps ensure as much as possible that individuals who register an account are actually who they say they are. Of course, there will always be situations where fake accounts are created, but the vast majority of this activity is thwarted by the registration process.
Registering also provides an additional degree of peace of mind for potential dates. By ensuring that a user of the site has either provided their social media information or phone number, potential matches won't feel as if they are communicating with a virtual anomaly.
Registration Options to Consider
Although dating apps have entered the mainstream, many users are still hesitant to admit that they use them. Many individuals anticipate that they will be shamed or otherwise judged for their participation, which is why they value the ability to use these apps discreetly. Although earlier generations of dating apps required users to connect their Facebook accounts, this is no longer enforced. Now, users can sign up using only their first name and a phone number. With that in mind, there is no reason to avoid signing up, as absolute "invisibility" is ensured.
Virtually all dating websites will no longer allow you to search by simply browsing without registering. Whether you are hoping to review Zoosk singles or search dating websites for quality dates, you will have to confront the registration process at one point or another.
If you remain hesitant to join a dating website or app, you may consider taking slow steps into this arena without fully opening yourself up to the community. For example, you don't have to complete a lengthy profile for many dating apps if you choose not to, and there are very few requirements on most platforms when it comes to uploading pictures. Ultimately, the choice is yours as to how you to choose to engage with these services. Hopefully, you can find your own "best fit" out of the multitude of dating apps and matchmaking services available online today.