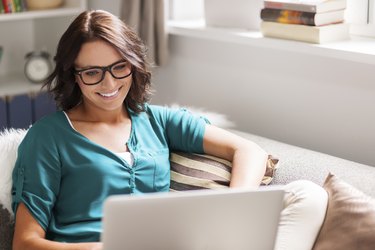 Facebook is a very contained social platform that does not allow non-users to browse and view Facebook profiles and a good portion of the content. However, certain aspects of Facebook are made public and are accessible through strategic search tactics and the public section of the directory listings. Otherwise, searching deep into profiles without having an account and even a friend link to the specific profile is not possible.
Locating specific content through a Google or Bing or other web search is one easy option for viewing Facebook without an account or any sign on abilities. The key is specifying the content as Facebook only when conducting the search. To make this happen, type out the search as Facebook.com, [search query] and it will render results from the social platform specifically.
For example, if you want to view a public figure or personal profile, type Facebook.com, [name of person] and press "Enter" to render the results. Public profiles are listed through the web search, including public figures, athletes and well known individuals, but also including some personal profiles. The profile will not display in the search results if the individual has set their personal privacy controls to restrict visibility. Every account holder has the option to make their profile available to search or to hide the profile from search engines, and they can also restrict visibility to other Facebook users.
Groups and business listings can also display in the general search results. The content from the groups is not likely to display, however, and most groups require a profile and approval from the administrators to view and interact with this content. Business listings are generally available to search results and the phone number, address and other basic information like the web address will display. Business listings are generally less relevant to search because they are also frequently listed through Google's own directory, especially when tied to a physical address.
Social networks have a ton of data and social search engines are designed to specifically sift and sort through this mass of information. They are handy for locating Facebook specific information without an account, although only the surface-level, publicly available information will display. The major advantage to using a social specific search engine is the ability to narrow down the scope of the search with features like location information. Numerous free search engines are available with each offering a slightly different angle on the search abilities.
Locating a person through social search is easily done with the name but common names can retrieve hundreds and even thousands of results. Use an engine with location specific search to quickly narrow the results while honing in on the target of the search. Again, the person must have a profile with security settings that allow public search, otherwise they will not display on web or social specific search engines.
Some social search engines also offer the ability to return results based on specific hashtags and topics. These are nice for the ability to view general content without having a Facebook account. They may offer a filter for Facebook specific content but returning results across a variety of social platforms is not uncommon either.
Facebook Without an Account: Directory
The Facebook Directory does not require an account to run surface level searches for people, groups and pages. You must enter a Captcha to prove you are not a robot but can search freely after gaining admission to the directory. Type facebook.com/directory in your web browser to get started with this search process.
The results returned by the directory are similar to those found in the search results. It will display all of the publicly available content while restricting content only available to account holders. While the content is limited, you can locate people, view some page content and access limited group information by utilizing the directory search features.