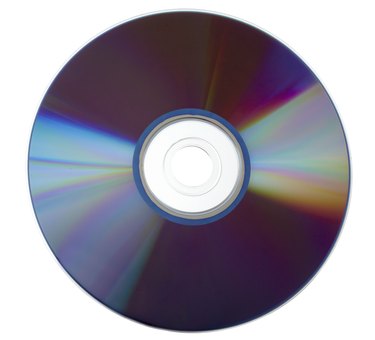 Burning DVDs in Windows 7 was a relatively simple affair thanks to the operating system's inclusion of Windows DVD Maker. However, DVD Maker is not included with Windows 8 or Windows 8.1, which means Windows 8 users must find another way to burn content to DVD. Windows Movie Maker no longer features support for burning DVD content; instead, Windows 8 users must export video content and then burn it to a disc using Windows Media Player.
Step 1
Open the project you wish to burn to DVD in Windows Movie Maker by clicking "File," selecting "Open Project" and then using the Open Project dialog box to navigate to your files and folders. Saved projects retain all of your edits, sound adjustments, transition effects and clip trims.
Step 2
Click "File" and then select "Save Movie" to display Windows Movie Maker's supported save formats. Select "For High-Definition Display," choose a save location and then name the file. Click "Save" to export the project to video format. Click the "View Folder" button when the save finishes, to see the exported file.
Step 3
Open Windows Media Player and then click the "Burn" tab. Click and drag your movie file from its save location to the burn list. Click the Burn Options drop-down and change the burn profile from "Audio CD" to "Data CD or DVD." You can burn multiple projects to the same DVD, and Windows Media Player automatically splits content onto multiple discs if necessary.
Step 4
Insert a blank DVD into your DVD drive. Click the "Start Burn" button in Windows Media Player to initiate the burn. Once the burn completes, your DVD is ready for use in another computer. Data DVDs make excellent backups for photos, movie projects, music libraries and other vital files.
Tip
Windows 8 does not include native support for burning a DVD that will play automatically on a DVD player or games system in the same manner as a store-bought DVD. Third-party software is required if you want to export single projects to a DVD that plays with a menu and other common movie DVD features.
Warning
Burning and sharing copyrighted media is illegal, depending on your country's copyright laws. Microsoft notes on its Media Player support page that violating copyright laws may subject you to criminal or civil penalties.