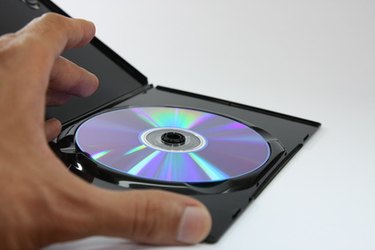 Nero is a popular software suite of DVD authoring tools. While most of the Nero applications are devoted to publishing media onto DVD, Nero Recode was developed to extract media from DVDs. The program can read discs and digitally encode them into video. While Nero Recode is capable of exporting a variety of video codecs, its native format is published with an advanced MPEG-4 compression standard. Referred to as the Nero Digital format, these videos are compliant with all MPEG-4 implementations. As a matter of fact, they even use the MP4 global file extension. By converting DVD media into Nero Digital format, Nero Recode can preserve a video's quality while dramatically reducing its size.
Step 1
Load your DVD in your computer's DVD reader drive.
Step 2
Download and install the Nero Multimedia Suite. The licensed software package can be obtained directly from the manufacturer. (See Resources.)
Step 3
Run Nero Recode. Go to "Start," select "All Programs," click on the "Nero" program folder and choose "Nero Recode." A welcome screen will appear and select "Recode Main Movie to Nero Digital."
Step 4
Analyze your DVD. In the program's main window, click the "Import Files" button and navigate to the saved location of the disc's VIDEO_TS folder. Once the folder has been identified, select it and click the "OK" button. Nero Recode will analyze the contents of the DVD.
Step 5
Digitize your DVD. Open the "Profile Category" drop-down menu and select "Nero Digital." All of the encoding pre-sets will populate based on this selected profile. Click the "Next" button in the program window.
Step 6
Burn your DVD. Select a destination path and target folder in the "Burn settings" window. Click the "Burn" button. When the DVD has been burned, the MP4 file will be stored in your designated location.