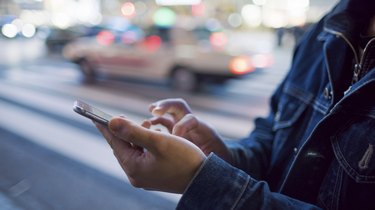 You can use iTunes to manage many aspects of your iPhone, including how it syncs, what it syncs with and how often it syncs. Change media sync options on your iPhone by learning more about what each section means and what options you can select.
iPhone Summary Section
iTunes has a summary section where you can view all the essential information about your iPhone, iPad or iPod. Connect your iPhone to the computer with the iPhone sync cable and open the iTunes program. Type in your iPhone's passcode if it has one and tap the "Trust" option when asked if you want to trust the computer. Click the "Device" icon in the top left corner of iTunes and then tap "Summary." You can view your iPhone's model number, storage information and iOS version in this section. You may need this information if you're trying to get your iPhone repaired or trying to purchase parts for the iPhone.
Backups Section
The Backups section is located within Summary. You can select options here including where and how often your iPhone backs up. Your options are to back up to your iCloud account or to your computer. You can also click "Back Up Now" to create a backup for your iPhone at any time. This is particularly helpful if you're updating from an existing iPhone to a new iPhone because you can back up the existing iPhone and then restore this backup on the new iPhone. iTunes backups can occur whenever you plug your iPhone into the computer, and iCloud backups occur every 24 hours.
Change Media Sync Options
Scroll down the Summary section to see media sync options for your iPhone. You can check the box next to "Sync with this iPhone over Wi-Fi" to have your phone synced to iTunes whenever you're on your WiFi network. Check the box next to "Automatically sync when this iPhone is connected" to have your phone sync with your media library whenever it's plugged in. You can also select "Sync only checked songs and videos" and "Manually manage music and videos." Note that, if you're currently having the iPhone automatically synced with iTunes, checking "Manually manage music and video" will erase the iPhone's media. You'll need to manually add media back to your iPhone by using iTunes.
iPhone Data & Info Tabs
iTunes also has several other tabs for controlling files synced to your iPhone. These include Apps, Music, Movies, TV Shows, Podcast, Photos and Info. Click on each tab to control the specific media that is synced to your iPhone. For instance, you can have iTunes sync only the unplayed episodes of a podcast. Click the Info tab to control how your calendar, email and notes are synced with your computer.