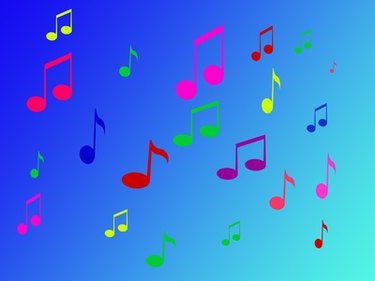 If your computer lost data due to hard drive crash or software conflict, you can restore your iTunes media library using an external hard drive or backup discs created before the data loss. In iTunes 7.0 and later, the program has a backup feature that provides you the ability to back up the entire library, purchases from the iTunes Store, or new content. According to Tony Bove and Cheryl Rhodes, authors of "iPod & iTunes For Dummies," your iTunes library should be backed up on a frequent basis in the event of data loss.
Restore from Discs
Step 1
Open the iTunes program on your computer by clicking the Start menu button in the lower-left corner of the desktop, and clicking "All Programs" and "iTunes" on your PC. On a Macintosh computer, click the iTunes icon on the dock of the desktop.
Step 2
Insert the backup disc into your computer's disc drive and wait for the disc to load.
Step 3
Click the "Restore" button on the pop-up confirmation box in iTunes to begin the restoration process. Press the "Eject" button on your Macintosh's keyboard, or press the Eject button on your PC's disc drive to remove the backup disc once the restoration process finishes.
Restore from External Hard Drive
Step 1
Connect the external hard drive to your computer using the external drive's USB cable.
Step 2
Drag the "iTunes Music" folder from the external hard drive to the Music folder on your Mac or PC. Your computer will ask to replace the existing "iTunes Music" folder. Click "Yes" or "Replace" to confirm the action.
Step 3
Open the iTunes program on your computer, and click "File" at the top of the program menu. Select "Import" from the drop-down menu, and double-click the "iTunes Music Library.xml" file to restore your iTunes playlists and settings.