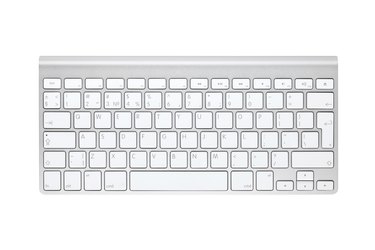 Setting up your keyboard to type in another language is vital if you communicate across cultures. If you're using a Mac running the OS X Mavericks operating system, you can change your default keyboard language via the Language & Regions section of the System Preferences panel.
Changing your Keyboard Language
To change your keyboard language, start by clicking the "Apple" menu in the upper-left corner of your screen and selecting "System Preferences" to launch the System Preferences panel. Click the "Language & Region" icon in the top row to open the Language & Region panel. Click the "Keyboard preferences" button at the bottom of the window, click the "+" sign in the bottom-left corner, select the language you want to use for your keyboard and click "Add." Drag the new language to the top of the languages list to set it as your new default keyboard language.
About Default Languages and External Keyboards
If applications support your new language, their menus will adjust accordingly. If they don't, they will use your previous default language.
If you have a physical keyboard with keys in another language, connect it to your Mac and set it as your default input source. To do this, click the "Apple" menu, click "System Preferences," click "Keyboard" and then click "Input Sources." Click the "+" icon and select the language of the new keyboard.