The Canon Pixma Mp160 is an all-in-one printer, scanner and fax machine. Replacing the cartridge in the printer requires little effort. Make sure to use the correct replacement cartridges for your MP160; installing the wrong cartridge type could prevent your printer from working or cause it to fail. Use caution to prevent ink spilling or dripping on you.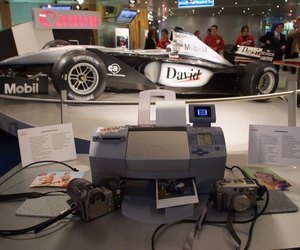 credit: Nina Ruecker/Getty Images News/Getty Images
Step
Identify the cartridge that requires replacement. Press the "Copy" button to display the ink level. "BLK" indicates your black ink cartridge; "COL" indicates your color cartridge. If the display is only one bar (or none), then the cartridge should be replaced.
Step
Open the top compartment (scan lid) on your Canon printer. Pull back the compartment support legs to hold it open.
Step
Put on gloves, and then push the cartridge down to unlock it. Pull it toward you to remove it from the printer.
Step
Remove the tape strip from the replacement ink cartridge. Insert the new ink cartridge (black on the left, color on the right) at an angle, with the gold circuit facing down and towards the front of the printer. Push the cartridge up to lock it in place.
Step
Repeat the process if you are replacing multiple cartridges. Close the scan lid when you are finished. If the "Low Ink" warning does not go away, then turn the printer off, wait a few minutes and turn it on again.