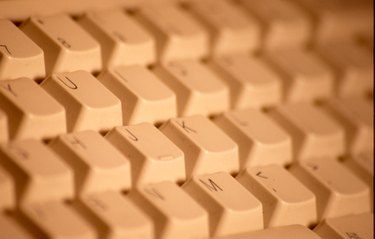 Bandwidth is the speed at which data travels to and from your computer and is generally controlled by your Internet provider. However, there are ways you can increase the bandwidth speed. Windows operating systems reserve a certain amount of bandwidth for its application requirements, but rarely uses the alloted amount. You can access this leftover amount through Windows' Registry Editor and use it to speed up your Internet usage.
Step 1
Click the "Start" button in the lower left corner of your desktop and then "Run." If "Run" is not on your main "Start" menu window, click "Programs" or "All Programs," then "Applications" to locate it. Type "regedit" (without quotes) in the text field and click "OK."
Step 2
Locate and click on the following path: "HKEY_LOCAL_MACHINE\SOFTWARE\Policies\Microsoft\Windows\Psched"
Step 3
Right-click below the listed entries and select "NEW" and "DWORD." In the box that appears, type "NonBestEffortLimit" (without quotes) and click "Enter."
Step 4
Double-click the new "NonBestEffortLimit" entry and type "0" in the value data field. Click "OK".
Step 5
Close the Registry Editor and restart Windows.