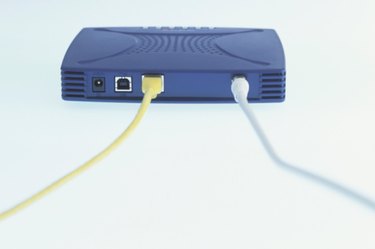 A wireless router is an external computer peripheral that accepts an incoming Internet connection, such as that from a cable modem, and converts it into a local wireless signal, allowing computers in the area with wireless adapters to connect to the Internet. Netgear is a popular manufacturer of wireless routers; the settings on Netgear routers can be changed by logging in to the router with a Web browser.
Step 1
Determine your wireless router's IP address. Many Netgear routers are set to 192.168.0.1 by default. In Windows 7, you can find this IP address by clicking "Start," then typing "cmd" in the search box, without clicking "Enter." When the search completes, right-click on the command icon and select "Run as administrator." In the window that opens, type "ipconfig" and click enter. Your router's IP address will be shown on the "Default Gateway" line. In earlier versions of Windows, click "Start," then "Run," then type "Command" in the box, click "OK," then type "ipconfig" and press enter. Your router's IP will be listed as the "Default Gateway."
Step 2
Open an Internet browser and type the router's IP address into the address bar.
Step 3
Enter your router's username and password if prompted to log in. By default, the user name and password may be "admin" and "password."
Step 4
Change settings within the router's administrative center as necessary. There will be several menus available where you can set up security for your router and set various communication options.
Step 5
Choose to apply or save changes as necessary. Your router's menus should have plainly visible buttons to apply and/or save changes you make to the settings.
Step 6
Close the browser window when you are finished making changes.
Tip
You can access the settings area for your router from any computer on the network, not just the computer that is hard-wired to the router.
Set up a username and password other than the defaults so that other people cannot tamper with your router's settings or connect to your network.