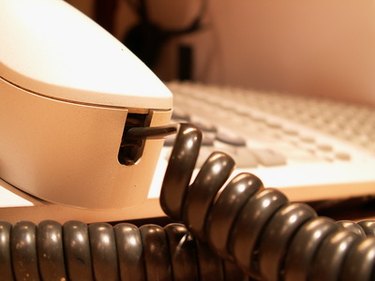 Lucent is a technology company that produces multi-line telephones designed to be connected by a network for office use. If you work in a professional environment, such as an office, school or hotel, chances are you've used a Lucent phone. Since these phones come equipped with a variety of features, it can be difficult to learn all of them. However, one feature on a Lucent phone that is relatively user-friendly is voicemail. Checking your voicemail on a Lucent phone is a relatively easy process that shouldn't take more than a few minutes of your time.
Step 1
Pick up your Lucent receiver and dial the numeric code provided by your company or employer to access the voicemail system. If you are off premises, you can dial the 800 phone number specific to your system and then input the code to be connected to the phone network.
Note that there are several different companies that provide voicemail services for Lucent phones. One such company, for example, is the Audix voice messaging system.
Step 2
Enter your system code and wait for the recorded voice greeting. Your system code is provided by your employer or administrator and varies depending on the system you are using. After you enter this code you will be logged into your company's voicemail system.
Step 3
Enter your extension when prompted and press the confirmation key on your phone. On many systems, such as the Audix system, the confirmation key is the "#" sign, but it may be different on your particular system. Next, enter your personal code and press the confirmation key again. You will then be logged into your personal voicemail account.
Step 4
Listen to the voice message again and then press the appropriate key to listen to the details of the messages in your mailbox, such as date, time and caller's name.
Step 5
Follow the prompts in the voice menu to select what you would like to do next. Options will include: listen to the message, save the message, repeat the message, delete the message or skip to a new message. On some systems there may be other options, such as forward the message to another line.