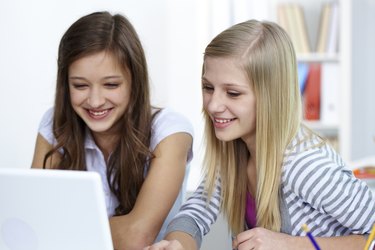 Unlike Linkedin, Facebook does not allow you to see who has viewed your Facebook profile. Although there are third-party applications that claim to help you see who has visited your Facebook profile, Facebook asserts that it does not support this.
Get Insights
If you manage a Facebook Page, you can check how many views it is getting. Facebook Pages are for businesses, brands, organizations and celebrities. They are managed from your personal account. Click Insights at the top of your Page. Next click Visits. Select start and end dates to choose a date range. Scroll down to view "Page and Tab Visits." Hover over Timeline, Photos Tab or Info Tab to see how many people are viewing each section. To see the locations of the people who are viewing your Page, click People on the Insights page. Facebook shows you how many fans you have and breaks down the demographics.
Adjust Privacy
If you are worried about who may be viewing your Facebook profile, adjust your security settings. Navigate to the Privacy Settings and Tools page by clicking the v in the upper-right corner of any Facebook page. Select Settings from the drop-down menu. Next, select Privacy and click on a setting to edit, such as "Who can see your future posts?" or "Limit the audience for posts you've shared with friends of friends or Public?".
Place Limits
You can also place specific limits on exactly who can view your posts. On the Privacy Settings and Tools page, click the drop-down menu and choose More Options. Select Custom to manage who can see your future posts. Uncheck "Friends of tagged" to prevent friends of those friends who you have tagged in a post or photo from viewing it. Add names to the "Don't share this with" list to prevent specific people from viewing a post or photo.
Interpret Clues
Although you can't view your Facebook profile visitors, there are a few ways to figure out who is visiting your profile the most. The friends who frequently like your photos and posts are likely those who visit your page most often. If you are tagged in a friend's photo or post, the people who comment on it may also view your Facebook timeline. Finally, those whose photos and posts you like or comment on are likely to visit your page as well.