Cable Internet is a form of high-speed Internet provided by television cable service providers. One advantage to cable Internet is that multiple computers can connect to the Internet connection through a router. Also, since there is no "dialing up" to connect to cable Internet, once connected to a computer the Internet is immediately available to access.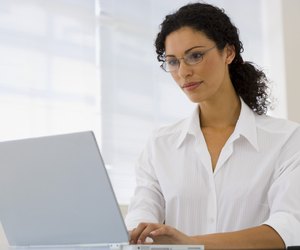 credit: Jupiterimages/Pixland/Getty Images
Connect Via Ethernet
Step
Connect one end of an Ethernet cable to the Internet jack on the back of the cable modem.
Step
Connect the other end of the Ethernet cable to the Network Ethernet jack on the computer. On many computers the jack is located on the rear of the computer. On some laptops, it may be located on the side.
Step
Wait for the "PC Activity" or "Computer Activity" light on the front of the cable modem to begin blinking. Double click on the icon for your Internet browser such as Firefox, Safari, or Internet Explorer on your computer's desktop to complete the connection.
Connecting Via Wireless (Wi-Fi)
Step
Connect the Ethernet cable to the "internet out " jack on the back of the cable modem. Connect the other end to the "Ethernet in" or "Internet" jack on the back of the wireless router. Make sure both the router and modem have their power supplies plugged in.
Step
Wait for the lights to begin blinking on the wireless router.
Step
Click on the Wi-Fi icon on your computer if your computer has built in wireless. Most laptop computers come with this feature. On a Windows PC, look for a small antenna icon with small green waves emitting from it in the lower right of the screen. You may need to click the small arrow icon to reveal this icon. On a Mac OS X system, look for the small icon in the top right of the screen that is a series of small curved lines.
Step
Select "Turn on Wi-Fi" or "Connect to Wireless networks" from the menu of options that appears when clicking the icon. Windows users may have to right click the icon.
Step
Locate the router name from the list of available wireless networks and click on it. By default your router name is the brand name of the router such as Cisco or Linksys. Enter the password if the network is a secured network and click "Connect."