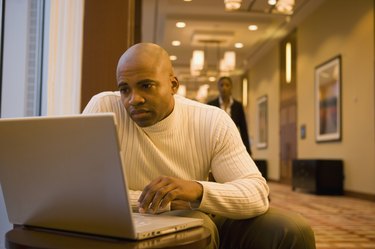 Certain models of Acer desktop computers are designed with wireless capabilities. These capabilities can be added to an Acer desktop system that does not connect wirelessly -- with either an internal or external wireless card, depending on the computer's configuration. When the wireless connection is not working properly, you can troubleshoot the issue yourself. The troubleshooting process eliminates the problems that may be preventing the Acer desktop computer from connecting wirelessly.
Step 1
Check to see if any other computers at the same location are able to connect wirelessly. The issue may reside with the wireless router or access point. Power cycling the router or access point may resolve this issue.
Step 2
Verify that the wireless adapter is enabled. Click the "Start" button, then "Control Panel." Click "Network and Sharing Center," then "Change Adapter Settings." If the wireless adapter is disabled, right-click on it and select "Enable."
Step 3
Connect to the proper wireless network. The Acer may be attempting to the connect to the wrong wireless network, or it may have lost its connection to the correct network. Click the wireless network icon in the task bar. Click the proper wireless network, then click "Connect." Enter the network password (or WEP key) if prompted.