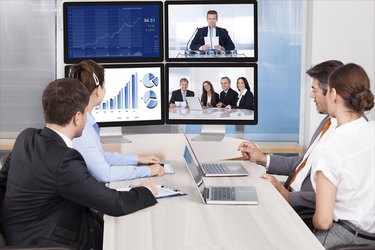 You can turn the content on your iPhone into a memorable presentation by connecting it to a larger monitor. Apple makes corded accessories that allow you to plug an iPhone directly into your monitor. Alternatively, you can mirror your iPhone's display to your monitor wirelessly with an Apple TV and a Wi-Fi network. This cordless option can give you greater mobility during a presentation.
Corded Accessories
Step 1
Check the back of your monitor to determine the input types it accepts, such as VGA or HDMI.
Step 2
Examine your iPhone to determine whether it uses the older 30-pin connection or a Lightning connection. Only the iPhone 5 and later iPhone models use the Lightning connection.
Step 3
Check Apple's iPhone Accessories store page (link in Resources) for cables that correspond to your iPhone's output and your monitor's input ports.
AirPlay Mirroring With Apple TV
Step 1
Purchase an Apple TV from Apple, which was priced at $99 as of May 2014.
Step 2
Plug the Apple TV into a monitor that has an HDMI input.
Step 3
Connect the iPhone and Apple TV to the same Wi-Fi network.
Step 4
Swipe up on your iPhone screen to reveal the Control Center.
Step 5
Tap the "AirPlay" icon and select your Apple TV.