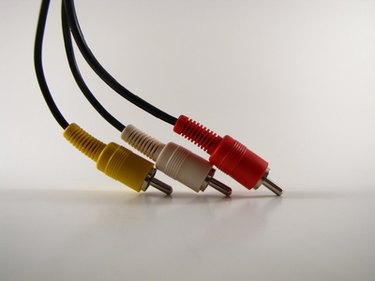 A Panasonic HD plasma TV uses two different types of audio-video cables to connect cable television service and a DVD player. To take full advantage of the Panasonic's high-def capabilities, you'll want to connect the set to an HD cable box with an HDMI (high definition media interface) cable. The DVD player connects with a standard set of composite cables to one of the composite AV inputs on the back of the Panasonic.
Step 1
Connect the HDMI cable from one of the HDMI input ports on the back of the Panasonic to the HDMI out-jack on the back of an HD cable box. The six-edge plug inserts in one direction only, with the narrow end facing down.
Step 2
Connect the three plugs on each end of the composite cable from the matching color jacks on the back of the DVD player to a set of composite in-jacks on the Panasonic.
Step 3
Turn on the HDTV, the cable box and DVD player.
Step 4
Press the source selection button on the Panasonic remote to watch cable programming or change over to the connection with the DVD player.