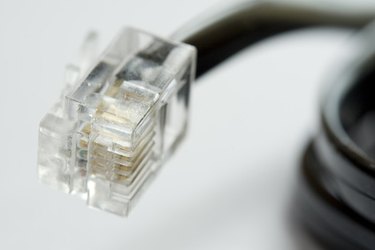 The Ethernet cable is part of Local Area Networks used to access wireless Internet or cable connections. An Ethernet cord is plugged into a wireless router to transmit the signal to any Web-enabled device. This is an alternative way to share pictures, games and Web content by transferring the signal to your television screen. Plugging the TV directly into the Ethernet will save the step of using extra cords to route the signal through a laptop or other wireless device. This also cuts out the need for an additional box to make the connection to a wireless signal. LG is one of the only manufacturers producing televisions with an Ethernet jack, as of August 15, 2010. Thus, the Ethernet cord is not compatible with most TVs.
Step 1
Locate the Ethernet jack on the back of the television. The Ethernet connector looks like a larger version of a typical phone jack. Some models may have a jack in the front lower control panel.
Step 2
Locate the Ethernet connection. This cord is used to connect the wireless router to a jack installed in the wall by the Internet service provider.
Step 3
Unplug the Ethernet cord from the wireless router. Leave the other end plugged into the wall jack.
Step 4
Plug the end of the Ethernet cord into the jack on the rear of the television.
Step 5
Look through the television's auxiliary or input settings to figure out which setting is appropriate for that type of media sharing. Refer to your TV's owner's manual if you cannot figure out how to switch the input settings.