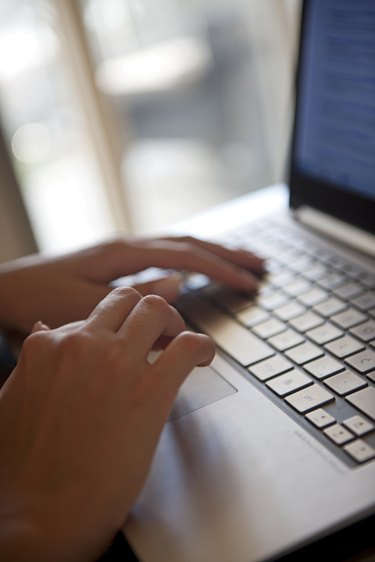 Connecting an iMac to a MacBook opens a wide range of options for sharing resources or collaborating on projects. Transfer files, share printers, or work on the iMac in your home office by using your MacBook in the living room. If you have a MacBook Air without a disc drive, you can use the one on your iMac instead of buying an external drive. Once the Macs can communicate with each other, you'll have to specify what you want to share, and with whom to share it.
Connecting the Macs
Step 1
Connect both Mac computers to a secure Wi-Fi network, if possible. This is simply the easiest method to connect them. All Apple computers come with a built-in Wi-Fi adapter. Click the "Wi-Fi" button at the top of the screen, select the network and enter the requested password. If this icon isn't there, open "System Preferences" from the Apple menu and select "Wi-Fi." Click the "Turn Wi-Fi On" button if needed and then select the network from the "Network Name" menu.
Step 2
Turn on Bluetooth for each Mac if they are within 30 feet of each other. Like Wi-Fi, Bluetooth is built in to every Mac. To do this, click the "Bluetooth" icon at the top of the screen and select "Turn Bluetooth On."
Step 3
Connect each Mac to any router that has Ethernet ports, using a network cable if secure Wi-Fi isn't available. The iMac and a MacBook Pro both have Ethernet ports. If you have a MacBook Air, you will need an Thunderbolt-to-Ethernet adapter. USB cables may be an option, depending on the router; however, USB is slower than Ethernet.
Step 4
Connect both Macs directly together using a network Ethernet cable or a Thunderbolt-to-Ethernet adapter if you don't have a router available. In the distant past, you would have needed a crossover cable, but on Macs today, any ordinary network cable will do.
Sharing Setup
Step 1
Launch "System Preferences" from the Apple menu on the Mac that has something to share. Click the "Sharing" icon in System Preferences. On the left is a list of services to select, including screen sharing, file sharing, printer sharing and remote administration.
Step 2
Select the service you want to use by clicking its check box, then consider the onscreen instructions and options. For example, if you select "File Sharing," you need to specify which folders are to be shared. If you are sharing a printer, specify the printer by clicking its check box.
Step 3
Specify who can access the service you selected by clicking each name and group in the Users menu. This menu appears on every sharing service, except Bluetooth Sharing. The Everyone user group, for example, is usually set to "Read Only," meaning anyone on your network can read and upload files, but can't add files to a folder. If you click this, you can change it to "Read & Write" using the drop-down menu.
Step 4
Specify a specific person who can access your Mac by clicking the "+" button below the Users menu. Click "Contacts" and then select that person from your Contacts list. If that person isn't already in your Contacts app, you'll have to add him first, of course.
Step 5
Make a note of the onscreen information detailing how to access this Mac. This includes the Mac's name at the top of the Sharing window. For file sharing, make a note of the computer's address, such as "afp://192.168.2.10" or "smb://192.168.2.10".
Step 6
Launch Finder on the second Mac to access the shared Mac's files or screen. Select "Connect to Server" from the "Go" menu and enter the information you copied from the first Mac. Enter your admin password, if prompted. This isn't necessary if you are just sharing a printer. You can just access a shared printer whenever you start a print job.