Whether you use Outlook at work or at home, you can quickly sync it with your iPad. If you use Microsoft's Outlook.com email service or have a Microsoft Exchange Server at work, the process is essentially the same, although you may need your Exchange Server's domain name to connect. If you use an Outlook app on your computer without an Exchange Server, you can sync it using iTunes or iCloud.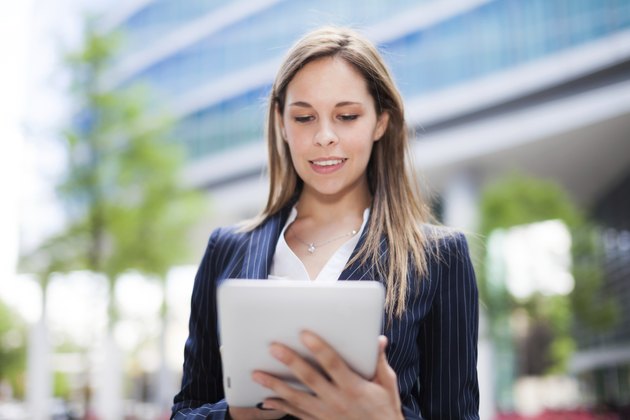 Syncing to Exchange or Outlook.com
Step 1
Tap "Settings" on the iPad home screen while you have an active Internet connection. Select "Mail, Contacts, Calendars" and then "Add Account." Select "Microsoft Exchange" to sync with a server at work. Select "Outlook.com" to sync with your Outlook.com account.
Step 2
Enter your email account, username and password in the appropriate fields. If you are connecting to an Exchange Server, you can enter the domain name as well, but this isn't required.
Step 3
Tap "Next" and give the iPad a minute or so to locate your Exchange server. Connecting to Outlook.com should take only a few seconds. If it can't connect to an Exchange Server, you are prompted to enter your Exchange Server domain name, such as "exchange.companywebsite.com." Get this name from your network administrator if you don't know it.
Step 4
Tap "Next." Once the iPad connects to the email server, you are prompted to select which services you want to sync. Select "Mail," "Contacts" or "Calendars" as desired. You can change these services at any time by going back to "Mail, Contacts, Calendars" in Settings and tapping "Account Info."
Syncing with iTunes
Step 1
Download and install the latest version of iTunes to your computer. Launch iTunes and sign in using the same Apple ID you use on your iPad.
Step 2
Connect the iPad to your computer using its USB-Lightning cable. Select your iPad when it appears in iTunes, then click the "Info" button.
Step 3
Click the appropriate sync options for mail, calendars and contacts, such as the "Sync mail accounts from" option and select "Outlook" from each drop-down menu. If you have multiple calendars, email addresses or contact groups in Outlook, you can specify which you want to sync, or you can sync all. Click the "Sync" button.
Step 4
Click the "Summary" tab if you want to sync wirelessly. Click the"Sync with this device over Wi-Fi" option. Syncing will now be done automatically when iTunes is running on your computer, and your iPad is turned on and charging.
Syncing With iCloud
Step 1
Download and install Apple's iCloud Control Panel 3.1 for Windows on your computer. It should launch automatically once installed. You can quickly open it at any time by typing "iCloud" from the Windows 8.1 Start screen and then selecting it from the Search results.
Step 2
Log in with the same Apple ID you use for the iPad. Choose the sync options you want by selecting "Mail with Outlook," "Contacts with Outlook," and "Calendars & Tasks with Outlook."
Step 3
Launch "Settings" on the iPad and select "Mail, Contacts, Calendars." Select "iCloud" and then log in with your Apple ID. Select "Mail," "Contacts" and "Calendars" to sync these with Outlook via iCloud. From this screen, you can also select additional iCloud syncing options, such as "Documents and Data" or "Find My iPhone."
Tip
While iTunes has the added benefits of syncing music, videos and apps, if you're syncing only Outlook, consider using the iCloud instead. At about 40MB, the iCloud Control Panel for Windows is a much smaller app and historically doesn't need to be updated as often as iTunes.
Warning
If you haven't backed up your iPad or Outlook recently, do so before syncing data. Some users have reported duplicated or erased data when syncing.
Keep your data secure. Always use a strong password on your email account and cloud storage services like iCloud. Strong passwords contain upper and lower case letters as well as numbers or symbols, without names or words found in the dictionary.