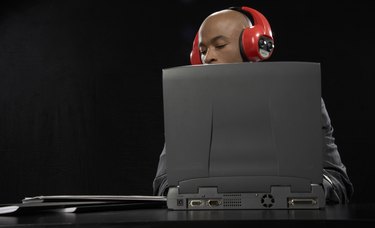 Headphones are a convenient way to experience audio-rich entertainment on your own terms. Headphones allow you to customize your listening level without disturbing other people in your general vicinity. Headphone cables can be a hassle, however, so many new headphone models feature a wireless connection. PCs tend to be wire jungles, so eliminating one wire from a potentially jumbled mess can be an intriguing feature of wireless headphones. Connecting wireless headphones to your PC allows you to take advantage of the benefits of listening to your movies, music or games through headphones without the struggle of the headphone cable.
Step 1
Charge up or place batteries in your headphones and transmitter. Wireless headphones require power to function. Many wireless headphones come with a charger base. You need to charge your headphones before you attempt to connect them to your PC. Some wireless headphone models require batteries, which you must install before you connect the headphones to the PC.
Step 2
Connect the transmitter to your PC. The transmitter may connect via the PC's headphone jack or USB port. If the transmitter connects to the headphone jack, plug it in and check your headphone's user guide to verify how to synchronize the headphones to the transmitter. If the transmitter connects via USB, you will likely need to install software to use your wireless headphones. If your wireless headphones are Bluetooth-compatible, continue to the next step.
Step 3
Pair your headphones via Bluetooth to your PC. If your PC is not Bluetooth-equipped, you will need to install a Bluetooth USB dongle. Turn on your headphones and open the Bluetooth software on your PC. Scan for Bluetooth devices from your PC. Your headphones should appear. Select the headphones and follow any further instructions to complete the pairing process.
Step 4
Test the headphones. Pick out a song or a video and play it on your PC. Connect your wireless headphones and verify that you can hear the audio. Find the volume controls on your headphones and adjust them to make sure the volume changes correctly. If your headphones are not functioning properly, verify that the headphones are turned on. If the headphones are on and you do not hear anything, verify that your transmitter is functioning properly and that you have your volume turned up on your PC.
Step 5
Recharge your headphones when you are finished using them. To ensure that the headphones are ready anytime you need them, you must always place them on the charging base when you are finished using them. If the headphones are battery-powered, be sure that you always have spare batteries on hand.